A message from the President
Makoto Sasaki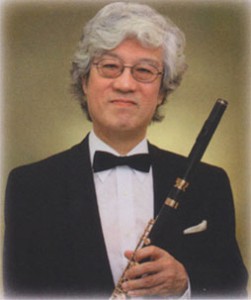 Welcome to the Japan Flutists Association website.
This year, 2013, it will be soon half a century since the establishment of Japan Flutists Association. In this time, the society in which we flute lovers live has changed a lot.
The remarkable deployment of information technology, the economic development of neighboring countries, and in the flute world, the possibility of use as an ensemble instrument is being added to the function of the flute, which used to be mainly a melody solo instrument. While all these developments were taking place, I was appointed the third president of the Association in the Autumn of 2011. Building on our valuable history, with the support of everyone, I would like to steadily move our association step by step toward the future.
Japan Flutists Association was founded in 1966. Since then, our members have continued to keep the words of the first president (permanent honorary president) Masao Yoshida's "On the occasion of the association's establishment" as the cornerstone of our beliefs.
The first sentence "people who share the joy of playing the flute" means that there is no discrimination of age or sex, or level of ability, veteran or beginner, professional or amateur, etc. Although saying that all members are the same in that sense, members acknowledge their positions as veterans, beginners, or as players at some intermediate level of skill.
I would like to think that this association is not one where the members emphasize their own positions, but is one where members in various positions build bridges between each other. I am sure that this is the first step toward Prof. Yoshida's "a beautiful heart".
In order for us to be able to share the joy of playing the flute, thoughts of the flute from many people are essential: people engaged in the manufacture and sale of this wonderful musical instrument, people who give us publications and compositions, people who arrange pieces for the flute, and people who become an audience and aid us. I sincerely wish that all people who share the joy of playing the flute and also flute lovers who do not play the flute can join us.
I hope that Japan Flutists Association will work for the Japanese flute lover, and encourage communications between all nations of the world and Japan, the country of the flute.