Japan Flute Convention in Fukuoka 2019 – Information on the Admission Pass
Registration at the Fukuoka venue for Participants from Abroad
Please accept our apologies for the delay in sending out the admission pass. The image file of the admission pass for the JFA flute Convention in Fukuoka 2019 will be electronically sent to each participant.In the meantime, please carefully read the information regarding the admission pass.
The image of the pass could be printed out to be presented or the QR code on the smartphone could also be presented upon registration at the convention venue. Please consider this an important matter. After presenting the image of the pass or the QR code on the smartphone, please follow instructions of the staff and proceed to registering as a participant from outside of Japan.
The admission pass will allow the participant

1

)

to enter any events that take place during the convention.
2

)

to partake in the competition if application for the competition has been completed.
3

)

to attend the closing party if it has been paid for in advance.
There will also be a QR code printed on each pass which enables a smooth registration.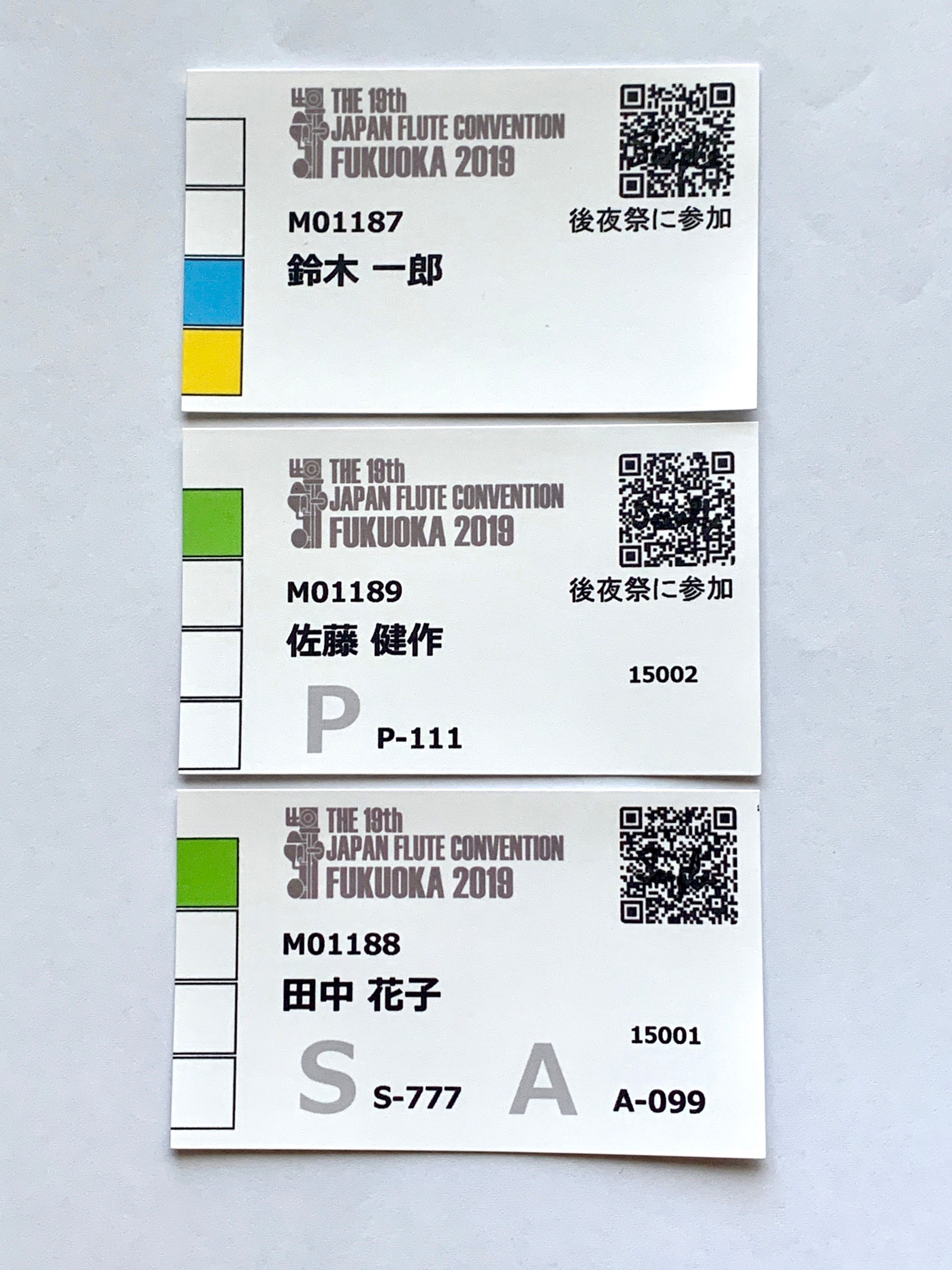 For the 3-day convention,each admission pass will identify the date of participation by color:
*the pass for participating the entire 3 days – green
*the pass for participating on Aug. 23 – red
*the pass for participating on Aug. 24 – blue
*the pass for participating on Aug. 25 – yellow
This information will also be reflected in each QR code which will prevent improper entry.
For participants taking part in the competition will find gray alphabets,"S","P","A"> on the pass, indicating the categories of the competition:
*S for the solo division
*P for the piccolo division
*A for the ensemble award division
In addition, the contestant's entry number for each category will also be indicated on the pass. Please confirm your entry number if you are a contestant.
Participants who have requested and paid for the closing party in advance will receive a pass in Japanese, "後夜祭に参加" (attend the closing party). This information will also be reflected in the QR code.
The admission pass contains important information for participating in the convention. We would like to remind you not to lose it and not to forget to bring it to the convention. Each participant will be given a plastic pass holder with a strap. Participants will be asked to wear the pass around the neck at all time for staff members to recognize it.
Re-issuance of the admission pass will cost 500 yen. Please be ready to present a personal  identification document in this case.
With the receipt number (the code number starting with "M" on the pass) or the JFA membership number kept noted, the re-issuing could be a smoother process.